When we talk about the touring motorcycle, the Honda GL1800 Gold Wing Series is frequently the talk of the town. But do you know that there are dozens of ways that you can customize your windshield for this particular brand?
You can always seek the best for your safety and comfort in touring.
If you are not satisfied with your Gold Wing's OEM (Original Equipment Manufacturer) windshield (or you need to replace it), there are some of the best windshields for Gold Wing produced by other manufacturers.
We prepare a list of some of the best windshields for Honda GL1800 Gold Wing here. But first, we answer some frequently asked questions (FAQs) about the windshield and some interesting trivia.
5 Top Windshields for Honda Gold Wing 1800 Reviews 2020
1. National Cycle VStream Clear Windscreen Windshield Replacement with Vent Opening for Honda GL1800
National Cycle is one of the most respected motorcycle windshield and accessories manufacturers in the U.S. since 1937. This Illinois-based company produced durable and scratch-resistant windscreen just like the VStream Clear.
If you prefer a customized feel on your Honda GL 1800 Goldwing motorcycle windshield, the VStream Windscreen Replacement might fit the job. This windshield does not only protect you from the elements but also gives a nice look while you're on the road.
Aside from having a vent opening to minimize wind impact, the VStream Clear Windshield is tall enough (22 inches/55.9cm. in height) to cover the entire body. Consequently, the width (26 inches/66 cm.) is ideal in reducing wind noise and turbulence.
Since the VStream Clear Windscreen is custom-made for Honda GL1800 Goldwing, you can still adjust the mounting height to your desired level. This windshield's mounting bracket gives you more freedom to match your bike's fairings or no fairings at all!
Pros
Designed for a long-range touring motorcycle.
Shatter-proof, with all-out protection from battering wind and rain.
Tough 4.5mm Quantum hard-coated polycarbonate.
Better protection from flying insects.
A 3-year warranty is guaranteed.
Easy to mount without using specialized tools.
A perfect replacement for OEM.
Cons
The vent hole requires regular cleaning.
Pricier compared to other windshields.
It is harder to buff when scratched deeply.
---
2. Motorcycle Windscreen Windshield + Air Vented For Honda Goldwing GL1800 2001-2017
If you want a windscreen that is clear and more flexible to air turbulence, why not try PSLER's windshield? The Motorcycle Windscreen for Honda Goldwing is acrylic that bends with the wind.
This windshield performs well in deflecting wind and comes in two colors: the upper part is a clear plastic while the lower segment is dark smoked. The air vent is detachable and easy to clean. If you are used to driving across the city with heavy traffic, this windscreen provides a clear view of pedestrians and other vehicles in heavy rain.
You will find this Air Vented Windscreen for Goldwing taller and wider (by at least 2 inches) from an ordinary windshield. The added length and width provide more protection to the driver from buffeting.
Many users of this windshield attest to its quality and efficiency, especially on a gravel road. The shield can protect you from flying small stones when you drive faster.
Pros
Perfect fit for Honda Goldwing GL1800 model from 2001 to 2017.
Have wider air vents for increased performance against air turbulence.
Taller at 63 cm. (24.8 inches) and wider at 67.5 cm. (26.6 inches).
Lighter than most windshields at 6.74 pounds.
Easy to mount as it fits well with the Goldwing model 2001 to 2017.
Adjustable up and down depending on your preference.
Cons
Not fit for Honda Goldwing GL1800 model 2018.
The material is ABS plastic and not hard-coated polycarbonate.
May scratch easier but buffs out well with just a single coat.
---
3. Memphis Shades MEP4876 Gradient Blue Windshield (GL1800 Standard Gold Wing with Vent Hole)
If you want to replace your GL1800's OEM windshield, one of the perfect choices is the Memphis Shades Gradient Blue Windshield. It is not an exaggeration to say that this windscreen is more reliable than the original stock.
We are not surprised that this windscreen is a breakthrough in windshield engineering as its simple design creates a safer environment for riders. The MEP4876 Memphis Shades comes in brilliant color (gradient blue) that keeps incoming vehicles safe from glare.
Air pounding during a windy day is not an unusual phenomenon for motorcycle riders, so they must protect themselves from harsh wind. This windshield is enough to protect you from the lashes of air turbulence because of its ideal size.
The MEP4876 comes taller at 29.8 inches and wider at 29.5 inches. Even its material (Lucite or acrylic) is high-grade though not comparable to polycarbonate. You can count on this transparent windscreen even after years of prolonged use.
Pros
It only has three mounting holes for easy installation.
Reasonably priced than other heavy-duty windscreens.
It comes with a vent hole that can fit your stock OEM.
Taller and wide than cheaper windshields.
A more cost-saving alternative to expensive windscreens.
Cons
Not as durable as polycarbonate but more flexible to the high-speed wind.
May not fit with older models of GL1800.
---
4. Slipstreamer S-267 Windshield Dark Smoke S-267-11DS
If you want a stylish and slimmer windscreen, the Slipstreamer S-267 Windshield might fit your taste. This windshield is just 11 inches in height when installed and provides a handsome look for fashionable riders.
But it is more than a fashion statement as the S-D267-11DS' air-craft grade acrylic material is an improvement from the regular plastic. The 11-inch height is due to slanted mounting (actual length is 27.5 inches) provides smoother airflow.
The S-267 Windshield Dark Smoke fits well with Honda GL1800B Goldwing F6B model 2013-2016 and the F6B Deluxe model 2013-2017. Some bike enthusiasts say this version is better than the OEM by Honda; might consider it if you want a slender look.
If you prefer acrylic to polycarbonate (which is more expensive) material but still protects from the harsh elements from driving, the Slipstreamer S-267 Windshield is a cost-effective alternative.
Pros
The dark smoke tint of this shield is still visible a night.
It is from aviation-grade compact acrylic.
Easy to install without using specialized tools.
Actual dimensions are 27.5 X 18.5 X 5.6 inches.
It comes with a mounting bracket perfect for bikes without fairings.
The dark smoke tint is 50%.
Only 15 minutes of mounting.
Cons
May not fully protect the rider from rain flashes and high-speed wind.
The dark tint may become blurred or opaque under extreme conditions.
Best to use with a full-face helmet.
No air vent.
---
5. Show Chrome Accessories 20-518 Clear Sweptback Windshield
The American-made Show Chrome Accessories 20-518 Windshield fits Goldwing GL1800 model 2001-2017. Some of the fascinating features of 20-518 are that it is 3.5 inches taller and 3.5 inches wider than the original stock (OEM).
The wide-coverage of its fit ability lets more bikers customize their ride. You can say that you're fortunate to own one of these windshields. But kidding aside, the Clear Sweptback Windshield will protect you from hard-hitting gravel or debris during a high-speed ride.
Nonetheless, this over-the-top transparent windscreen reduces the risk of wind chill in snowy weather. When installed in the right place, the 20-518 Windshield can protect you from pelting rain or hail in inclement weather.
The Sweptback windshield has a tapered-look, which is more resilient to the aerodynamics of high-speed travel. The vent provided is adjustable so you can redirect airflow. Even the height is adjustable, where you can customize it depending on the rider built
Pros
It is a heavy-duty acrylic.
DOT-approved transparent Lucite that lasts longer.
It comes with an easy-to-clean air vent.
It is thicker (3/16 inches) than other windshields.
Dimensions: 34.8 X 29.8 X 5.7 inches.
Made in the U.S.A.
Cons
Not recommended for the latest models of Goldwing.
Heavier than other windscreens of the same class.
What Is The Importance of A Windshield?
A windshield (or windscreen) for the motorcycle is introduced sometime in 1928: to protect the rider from small debris and bugs from the driver's face.
In its early days, windscreens were small and frail and made from a plastic known then as Butyrate (similar to today's Plexiglas).
Over the years, experts found out that a windscreen does not only protect the driver from flying debris and insects. Studies suggest that "windshields can help combat fatigue, back pain, and arm strain by removing the wind blast to the rider's face and chest."
Moreover, windshields deflect rain, snow, and hot and cold turbulent air away from your body and face.
Materials Used on Modern Windscreens
Acrylic
Windshields of the past were of acrylic plastics, which broke into pieces upon traumatic impact. But the industry did not stop until it found the perfect windscreen material.
In recent years, Lucite came into the market. Lucite is known as Plexiglas today and the British variation called Perspex. Lucite is a kind of modified aircraft acrylic that is an organic compound of high molecular weight; it is more durable than plastics.
Lucite is used today by Boeing and Slipstreamer (a well-known windshield and accessories manufacturer). Other manufacturers used this material for GL1800 windshield, such as Memphis Shades, Show Chrome Accessories, and PSLER, among others.
Polycarbonate
Polycarbonate is the latest addition to materials developed for use in medical equipment, auto parts, lighting fixtures, windshields, and other applications.
This material is a kind of plastic that is more flexible and stronger but transparent. The National Cycle's VStream windshield GL1800 series are from this compound.
What Is The Top Speed of A Honda Gold Wing 1800?
The 2020 Honda Goldwing has a top speed of 140mph (225mph) at 124.6 HP. On the other hand, the 2018 Honda Goldwing has a top speed of 112mph (180kph).
Which Honda Goldwing Model You Must Avoid?
Honda Gold Wing, which began in 1974, is a landmark of Japanese automotive technology and is considered one of the finest motorcycles of all time. But even the best manufacturer has its weaknesses.
Some Gold Wing series had setbacks and problems arising from frame to engine issues and other concerns. The first generation Gold Wing was the GL1000 (1974-1979), followed by the second generation GL1100 (1980-1983), and the third generation GL1200 series (1983-1987), which was manufactured solely in the U.S.A.
The GL1500 (fourth generation) series is between 1987 and 2000, also in the U.S. The GL1800 series (fifth generation) began in 2001 and the first generation to utilize fuel injection technology.
The 2018 GL1800 series is the sixth and latest generation to date, a completely re-designed Gold Wing.
Here are the Gold Wing model years you should avoid, according to motorcycle gurus:
1978-1979: Several changes to the tank shape, seat, instruments, exhaust system, carburetor, wheel, and the elimination of kick-start, among others.
1984-1985: Had rear-wheel malfunction resulting from poor craftsmanship and ignition problems.
How Long Does A Honda Goldwing Last?
Nobody is sure how long a Honda Gold Wing last. But some experts agree that the Gold Wing Valkyrie may last more than 200,000 miles with proper care. One rider testified that his GL1800 Gold Wing already registered 425,000 miles on the bike's odometer.
What Does GL Stand for On A Honda Gold Wing?
There are no specific words concerning the letters GL in Honda Gold Wing. But bike enthusiasts believed that Honda used the letters to identify the series number. Even Honda doesn't acknowledge GL as an acronym.
Conclusion
We have been a long-time admirer of the Gold Wing. We are proudly sure that we can advise you of the best windshield for Honda GL 1800 Gold Wing.
If you are with us, we highly recommend the National Cycle VStream Clear Windscreen as the ideal replacement for your old Gold Wing shield. Yes, it cost higher than any of the product on our list, but the safety and comfort it brings are priceless!
The height of the VStream is just perfect for a driver of our stature, while its width is ideal for long-hour of touring. The Quantum hard-coated polycarbonate material of the VStream spells the difference among the rest.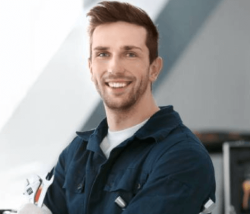 Latest posts by Mark Nicholson
(see all)