Embarking on your journey into the world of dirt biking? You're likely wondering which bike will serve as the perfect companion for your off-road adventures. Two popular choices stand out for beginners – the Yamaha TTR230 and the Kawasaki KLX230. Each of these bikes offers unique features that cater to different preferences and skill levels.
In our comprehensive comparison of the Yamaha TTR230 Vs Kawasaki KLX230, we dive into the specifics of engine performance, speed, weight, height, fuel capacity, brakes, suspension, price, and more. By the end of this guide, you'll be equipped to make an informed decision that best aligns with your trail-riding aspirations. Let's hit the dirt and explore what these bikes have to offer!
Engine: Yamaha TTR230 Vs Kawasaki KLX230
You've got a 223cc, 4-stroke engine on the Yamaha TTR230 and Kawasaki KLX230. Regarding horsepower, the TTR230 might seem a bit shy compared to the KLX230. But, don't let that fool you. The TTR230 might have less power, but its smooth engine performance is nothing short of impressive. You'll find the TTR230 delivers low-range torque, while the KLX230 covers the low-mid range. Despite their power differences, both engines are beginner-friendly. Though keep in mind, the KLX230's extra power could potentially challenge newbies.
Speed: Yamaha TTR230 Vs Kawasaki KLX230
The TTR230 may lag behind the KLX230, clocking in at 60 mph against the KLX230's 77 mph. However, this could work in your favor if you're a beginner. The TTR230's lower speed means easier handling, and it could help you hone your skills as a trail rider. But for the speed junkies among you, the KLX230's extra mph might be more appealing.
Weight & Height: Yamaha TTR230 Vs Kawasaki KLX230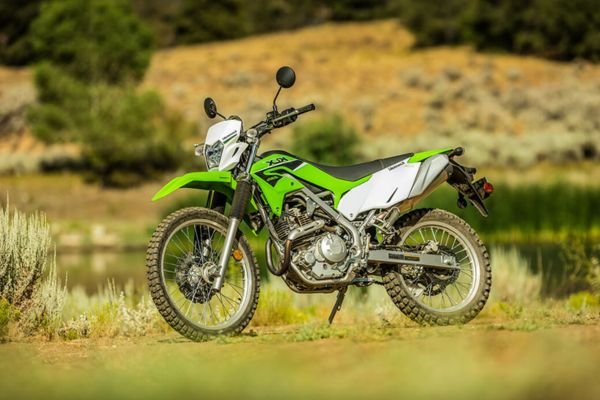 Weight and height play vital roles in your dirt bike experience. The TTR230 weighs in at 256 pounds, lighter than the KLX230's 295 pounds. Compared to other 250cc dirt bikes, they might feel a bit heavy. But remember, the TTR230's lighter weight can make it easier to control, especially for beginners. When it comes to height, the TTR230 stands at a comfortable 34 inches while the KLX230 is slightly taller at 34.8 inches. Not a huge difference, but for those of you who are height-challenged, the TTR230 might be a better fit.
Fuel Capacity: Yamaha TTR230 Vs Kawasaki KLX230
Both dirt bikes hold 2 gallons – plenty for your trail riding adventures.
Brakes: Yamaha TTR230 Vs Kawasaki KLX230
Braking is crucial, and here's where the KLX230 shines. It boasts a powerful 244mm petal disc front brake and a 220mm petal rear brake, which means you can count on it when you need to stop. The TTR230, on the other hand, has a 220mm front hydraulic brake and a rear drum brake. Not as potent as the KLX230, but still reliable.
Suspension: Yamaha TTR230 Vs Kawasaki KLX230
The KLX230 features a non-adjustable 37mm front fork and an adjustable rear fork, offering the flexibility to tune it to your weight and height. The TTR230 offers an adjustable rear suspension and a 9.4-inch front fork for confident riding on rough terrains. The TTR230 takes the cake here, just slightly outdoing the KLX230.
Price: Yamaha TTR230 Vs Kawasaki KLX230
Price-wise, the Yamaha TTR230 is a tad cheaper than the KLX230, making it a more affordable option for those just starting out at $4500, the TTR230 is lighter on your pocket compared to the KLX230's $4700 price tag. Given their similar performance, the TTR230 offers great value.
Pros and Cons: TTR230 Vs KLX230
Pros of TTR230 dirt bike:
Low seat height
Electric Start
Easy to handle in woods and trails
Good for short riders
Excellent trial dirt bike
Cons of TTR230 dirt bike:
Unstable at high speed
No kick start as backup
Heavy to pick up from the ground
Small for tall riders
Not the best for racing
Pros of KLX230 dirt bike:
Easy to manage at high speed
It comes with an electric start
Good front and rear brakes
Lightweight chassis
Low maintenance
Cons of KLX230 dirt bike:
High seat height
Lacks a kickstart backup
Stiff to ride
Missing modern safety features
Which one is better? TTR230 or KLX230
From a beginner's perspective, the Yamaha TTR230 is a good dirt bike. It's lightweight, easy to control, has a six-speed transmission, reliable front disc, and rear brakes, and improved suspension. However, keep in mind that you can't register this dirt bike.
For more experienced riders, the Kawasaki KLX230 might be a better choice. With its higher speed and power, it's a thrill to ride, and yes, it's registerable.
In the end, both bikes offer different strengths, and the choice depends on your needs and experience. Whether it's the TTR230 or the KLX230, one of these bikes could be your perfect trail companion.
Frequently Asked Questions (FAQs)
Is the TT-R230 fast?
The Yamaha TTR230 can run around 75 mph
What is the difference between KLX 230r and 230s
The KLX230R is the off-road trail bike model, while the KLX230 and 230 S models are street legal dirt bikes with all the accessories for legally riding on the road
How fast does a KLX 230 go?
The Kawasaki KLX 230 can reach a top speed of approximately 77 mph.
Is the KLX230 fuel injected?
Yes, the Kawasaki KLX230 features a fuel-injected engine
Is A KLX an enduro bike?
Yes, the KLX300, for example, is described as an "ultimate lightweight dual-sport" and "enduro-inspired"​.
Is a TT-R230 a beginner bike?
Yes, the Yamaha TT-R230 is considered a good bike for beginners, especially for teens and adults new to dirt biking.
How big is a TT-R230?
The Yamaha TT-R230 has a seat height of 34.3 inches, a ground clearance of 11.6 inches, and it weighs 251 pounds with all fluids and a full tank of gas.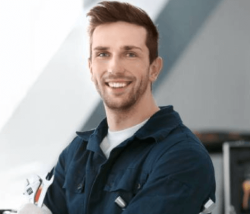 Latest posts by Mark Nicholson
(see all)