Feel the wind in your hair, the open road stretching endlessly ahead, and the pulse of the engine resonating through your bones – there's nothing quite like the exhilaration of a motorcycle ride. But what if we told you that your ride could be enhanced, not just by the engine's roar, but by a symphony of music, crystal-clear calls, and a host of smart features, all while keeping safety at the forefront?
Welcome to the world of the best motorcycle Bluetooth helmets, where cutting-edge technology and the timeless thrill of the open road merge seamlessly. In this blog, we're going to take you on a journey through the top contenders in the world of motorcycle helmets equipped with Bluetooth technology. Whether you're a seasoned rider looking to upgrade your gear or a newbie gearing up for your first ride, fasten your helmet straps because you're about to discover the future of motorcycle riding.
Here are the five best motorcycle Bluetooth helmets that we have carefully selected and analyzed. These helmets offer convenience, safety, and comfort for riders on the road. We have evaluated their features, performance, and value for money to help you make an informed decision.
The Sena Outrush Bluetooth Modular Motorcycle Helmet with Intercom System is a highly convenient and functional choice for riders. It offers clear communication on the road, thanks to its integrated intercom system. Despite minor drawbacks, this helmet provides a comfortable fit and reliable performance. With its impressive features and affordable price, the Sena Outrush is a great value for motorcycle enthusiasts seeking a Bluetooth helmet that enhances their riding experience.
Pros:
The Sena Outrush Bluetooth Modular Motorcycle Helmet has a modular design with a retractable sun visor, providing versatility and protection from the sun while riding.
The helmet features jog-dial operated controls, making it easy to adjust the volume and access other functions without taking your hands off the handlebars.
The HD Intercom Mode ensures clear audio communication with another rider, enhancing safety and convenience during group rides.
Cons:
Some users mentioned that the location of the Bluetooth control on the helmet is not ideal, which may require adjusting hand position while riding.
The microphone placement can sometimes get in the way when closing the helmet, which can be inconvenient for some users.
The helmet does not come with a pinlock visor, which may affect its performance in preventing fogging during colder or humid weather conditions.
The Bluetooth Motorcycle Helmet FreedConn BM12 combines safety, convenience, and comfort, making it an impressive product for riders. Its sturdy construction and DOT certification provide peace of mind, while the Bluetooth connectivity and intercom system enhance communication on the road. Although there are some minor drawbacks, such as audio quality and charging difficulties, the positive features of this helmet outweigh these issues. If you're in the market for a reliable and feature-rich motorcycle Bluetooth helmet, the FreedConn BM12 is worth considering.
Pros:
Safety: The helmet is made of a premium ABS shell and is approved by CE and DOT, ensuring excellent protection.
Comfortable Fit: The helmet comes with replaceable liners of different sizes, allowing for a customized and snug fit.
Long Battery Life: The Bluetooth helmet offers 10 hours of phone talk time, 8 hours of intercom, and 300 hours of standby, providing convenience for long rides.
Cons:
Audio Quality: Some customers reported that the audio quality for music playback was not satisfactory, with poor bass response and tinny sound.
Padding Issue: A few users experienced problems with the padding, as it caused their glasses to slide in between instead of fitting over their ears.
Charging Difficulty: Some customers found it challenging to plug in the charging wire behind the foam, which made it difficult to determine the battery's charge status.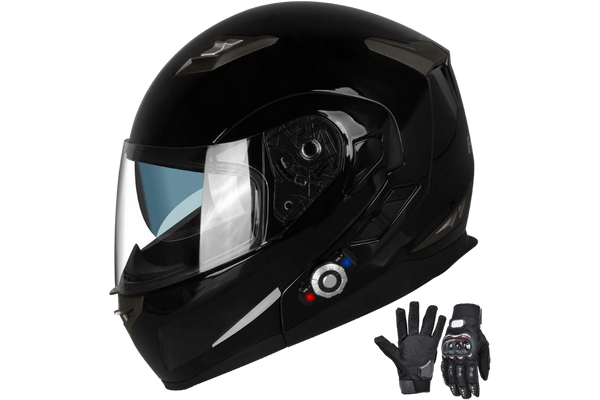 The FreedConn Motorcycle Bluetooth Helmet is a must-have for motorcycle enthusiasts looking for convenience, safety, and comfort. With its Bluetooth capabilities, easy control features, and powerful communication functions, this helmet enhances the overall riding experience. What sets FreedConn apart is its commitment to customer satisfaction and prompt support. Despite minor setbacks like wind noise and slight visor distortion, this helmet offers excellent value for the money. If you're in search of a reliable and stylish motorcycle Bluetooth helmet, the FreedConn Motorcycle Bluetooth Helmet is a great choice.
Pros:
Equipped with Bluetooth 3.0 version, keeping you connected with a cellphone, music player, and GPS system easily and stably.
Supports one-button control for calling, answering, rejecting incoming calls, and redialing.
Built-in Bluetooth intercom function, supports 2 riders talking or 3 riders pairing and up to 500m(1640 ft).
Cons:
Wind noise is significant with the shield up or down.
The clear visor had a distortion right in front of my right eye.
The battery never charged.
The Torc T14B Bluetooth Integrated Mako Full Face Helmet is a budget-friendly option for riders looking for a motorcycle Bluetooth helmet. While it may have some limitations, such as limited Bluetooth functionalities and ventilation issues, it still provides good protection and comfort. Considering its price point, the Torc T14B offers great value for money. If you're in need of an entry-level Bluetooth helmet without breaking the bank, this helmet is worth considering.
Pros:
Integrated, factory-installed Blinc Bluetooth system
Laser contoured comfort liner tailored for intermediate oval head form
ECE and DOT Certified
Cons:
Limited functionalities of the Bluetooth system
Need to get one size up from the normal helmet size
Issues with charging the Bluetooth system and no battery percentage display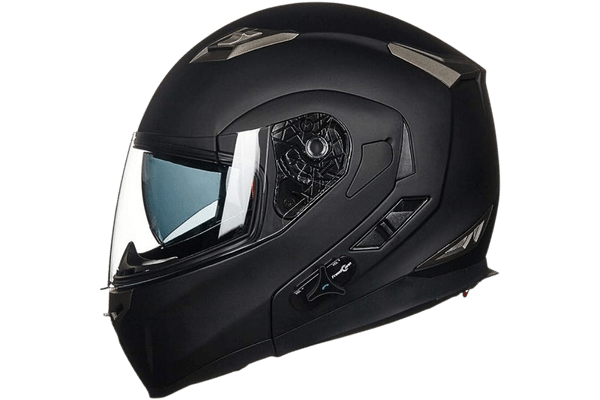 The ILM Bluetooth Integrated Modular Helmet is a good value for its price, offering great features for motorcycle enthusiasts on a budget. With its built-in sunscreen and easy-to-use Bluetooth connectivity, it provides convenience and functionality. However, it does have some drawbacks, including issues with the Bluetooth function and lack of pin-locks. Despite these shortcomings, the ILM helmet is still recommended for those looking for a reliable and versatile motorcycle Bluetooth helmet.
Pros:
The helmet has Bluetooth technology 3.0 version, allowing for convenient hands-free communication while riding. It also has a long battery life of 8 hours of talk time and 110 hours of standby.
The helmet meets or exceeds FMVSS-218 and DOT safety standards, ensuring that it provides adequate protection on the road. It also has DSP echo cancellation and noise suppression technology for clear voice communication, even at high speeds.
The helmet has a fully washable microfiber lining and adjustable vents, providing comfort and breathability. It also has a one-touch control for calling, answering, rejecting incoming calls, and redialing, making it easy to use while riding.
Cons:
The Bluetooth function may not be available if the battery enters deep sleep mode due to prolonged non-use. This requires charging the battery for about half an hour to restore the Bluetooth function.
The Bluetooth connectivity for phone calls may not work well, with poor reception and non-existent volume and bass clarity. This can be a significant drawback for those relying on the Bluetooth feature for communication.
The helmet does not have pin-locks, which can be a disadvantage in cold weather, as it may lead to fogging and reduced visibility during morning commutes.
Final Thoughts
In conclusion, we've taken you on a thrilling ride through the world of motorcycle Bluetooth helmets, showcasing some of the finest options available. Each of these helmets combines cutting-edge technology with safety and style, making them excellent choices for riders of all levels.
Ultimately, the "best" motorcycle Bluetooth helmet depends on your individual preferences and needs. Consider factors like helmet type (full-face, modular, or open-face), budget, and the specific features that matter most to you – whether it's superior audio quality, reliable communication capabilities, or integration with your favorite smart devices.
Our top pick is the ILM Bluetooth Integrated Modular Flip-up Full Face Motorcycle Helmet for its great Bluetooth audio and its matt finishing design.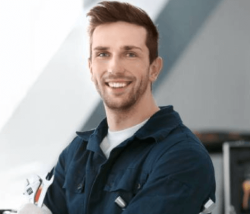 Latest posts by Mark Nicholson
(see all)