Bar-end mirrors for motorcycles are not just a fashionable style for your bike, but a device that promotes safer driving. Also called handlebar-end mirrors, these small gadgets come in different makes, but there is one that will surely fit your lifestyle.
If you are tired of using old stock mirrors, maybe it's time you go for more fashionable bar end mirrors without sacrificing safety on the road. Compared to side mirrors that come with your bike, bar-end mirrors offer a broader point of view that makes driving safer and more exciting!
In this article, you will be able to choose the best bar-end mirrors for motorcycles in case you want to replace your old stock.
We have the top-rated bar end mirrors on our list below so you can narrow down your choices. 
Best Overall
For sturdier mounting, the kemimoto Bar End Mirrors stands out from the rest. The mirrors have a light blue tint that eliminates glare when the sun is at its peak. If you prefer an extended peek of vision, these universal rearview mirrors are a better alternative.
Kemimoto Mirrors are also one of the cheapest pairs on our list, but the brand is far from being inferior. The high-quality mirrors have 3.5" X 3.5" lenses providing clear and broad visions where you can easily spot upcoming vehicles.
If your old stock side mirrors have installation difficulty, you will find the kemimoto bar end mirrors very easy to install. You see, these bar end mirrors have three varying thickness of black plastic sleeves to customize your needs.
These durable and corrosion-resistant bar end mirrors are best for Ducati Aprilia, most models of Honda, Kawasaki, Suzuki, and other scooters and touring bikes.
Pros
These bar end mirrors are shock-proof and vibration-resistant.
The stainless steel ball-socket
Each mirror has three 0-rings for a tighter fit.
The mirrors are adjustable sideways and up and down.
The universal connecting joints are easy to manipulate.
The light blue tint also protects your eyes.
The mirrors have a frame and stem made from Billet aluminum.
Cons
May loosen bolts during a high-speed run.
The mirrors won't fit any types of motorbikes.
The sleeves are made of plastic but may last with proper care.
Best Budget
The Kawell Rear View Side Mirror is the cheapest bar end mirrors on our list. But it does not mean that it has the lowest quality. If you own a Harley, Honda, Kawasaki, or a Suzuki, these handlebar mirrors are a precise fit.
Distributed by the Kawell Store, the Kawell Round Bar End Convex Mirrors are pieces of engineering. The simple design provides clear vision and safe driving even for top-of-the-line motorbikes.
Even though these rearview side mirrors come cheaper, the functionality and quality are unquestionable. The convex glass is in a Billet aluminum panel having multiple mounting options. The side mirrors fit into a 7/8-inch (22mm) handlebar, which is the standard size.
If you don't want shaky bar end mirrors, the Hawk-Eye Motorcycle Mirrors won't spoil your ride. The mirrors rotate at a 360-degree angle, so you don't have to worry about blind spots.
Pros
It has an anti-vibration design feature.
It has multiple mounting options.
Easy to install without using specialized tools.
It is one of the cheapest brands in the market.
It has an ideal diameter of 3.2 inches.
The stem is sturdy steel that won't wear down.
Fits other touring bikes, electric scooters, and more!
It can adjust sideways and up and down.
Cons
The provided fittings are for one-time use only.
The mirrors might slightly rotate unintentionally at high-speed.
The Mictuning Universal Motorcycle Mirrors have convex glasses and aluminum housing. Each mirror has a 3-inch diameter that is just perfect for high-speed viewing in inclement weather.
One of the best things about these round mirrors is that they are CNC-made and have a flawless appearance. It can fold through the holder and equip it with a ball-like joint allowing smooth rotation.
Being made by a machine, the results are precise measurements. The aluminum-alloy body is coated with a black pigment making it more resilient to rust. No matter the weather is, the Mictuning Round Folding Bar End Side Mirrors are a work of art and function well under extreme conditions.
This Universal Motorcycle Mirrors fit with brands like Honda, Suzuki, Yamaha, Kawasaki, Victory, Harley, and other touring bikes and scooters.
Pros
It has a foldable design and can rotate at a 360-degree angle.
It can move until you find the best viewing spot.
The pack includes all accessories: so you won't incur added cost.
The mirrors have clearer views.
Easy to install: an amateur can do the mounting.
The lenses are high-definition with sharper vision.
The mirrors weigh a combination of only 14.5 ounces.
Cons
These bar end mirrors fit only 7/8-inch handlebars.
Unlike flat mirrors, convex mirrors provide a wider viewing angle. However, convex mirrors distort the size and distance of the reflection.
---
Another cheap bar end mirrors on our list is the Katur Motorcycle Handlebar Mirrors made from CNC Billet aluminum. Unlike round mirrors, the Katur are oval that adds a classic look to your motorbike.
Moreover, if you want a more masculine look for your bike, the Katur Oval Bar End Mirrors boasts of a fashionable style. Compared to round mirrors, oval ones, like the Katur, provide a broader view. Moreover, each handlebar mirror is 4.42 inches (112.5mm) in length, 2.18 inches (55.5mm) on the widest point, and 2.68 inches (68mm) in height from the handlebar.
Aside from a 360-degree swivel, the mirrors have light blue hues for added glare protection. The universality of the mirrors' fitness makes them adaptable for Harley's, Honda, Yamaha, Suzuki, Kawasaki, and other touring bikes.
The mirrors' 7/8-inch (22mm) size fits most motorcycles. They come with 0.51-inch and 0.66-inch adapters for a slight change in installation. Over-all, the Katur Oval Bar End Mirrors are the best alternative for round mirrors, cost-wise.
Pros
The mirrors are CNC-machined aluminum (hard-anodized finished).
The mirrors have convex glasses.
Best for off-road types of motorcycles.
The housing is optical-grade acrylic that is corrosion-resistant.
Adjustable up and down for a better view.
The acrylic part of the housing is durable against harsh weather.
Cons
Prone to vibration during high-speed driving.
Although durable, the acrylic housing part might break if strike hard.
---
If you own a sports bike or a naked bike, the modern design of the CRG Arrow Bar End Mirror is a smart choice. This mirror has a minimalist design that is becoming more popular in races. The convex glass provides a broader view.
These mirrors are Billet aluminum produced under a strict CNC process. The hardware is stainless steel that is so easy to install. You can expect a precise product measurement that gives unobstructed views for riders.
Moreover, if you prefer bar end mirrors in black, this is it! Unfortunately, this buy only comes in a single mirror, which is ideal as a replacement for a broken stock mirror. The CRG Arrow Bar End Mirror has a distinctive multiple-position mounting technique.
There is nothing hard about installing the CRG Mirror, although it comes with no mounting options. You can always order the parts separately, or you can use your old mirror's mounting inserts. The CRG Arrow fits 7/8-inch handlebars and clip-on.
Pros
The mirror is for installation at the end of the handlebars.
It has a top-of-the-line aerodynamic design that goes well with the wind.
The mirror comes in black with a stylish look.
It comes with a 2-inch convex glass perfect for sportbikes.
Best replacement part for OEMs.
Cons
Pricey compared to other bar end mirrors of the same class.
The mounting inserts are not in the package; you can order them separately.
This product is smaller than conventional bar-end mirrors.
Sold individually and not in pairs.
---
Read More: Best Spark Plugs For 5.7lL Hemi: Read This Review First Before Buying Replacements
What Are Bar-End Mirrors?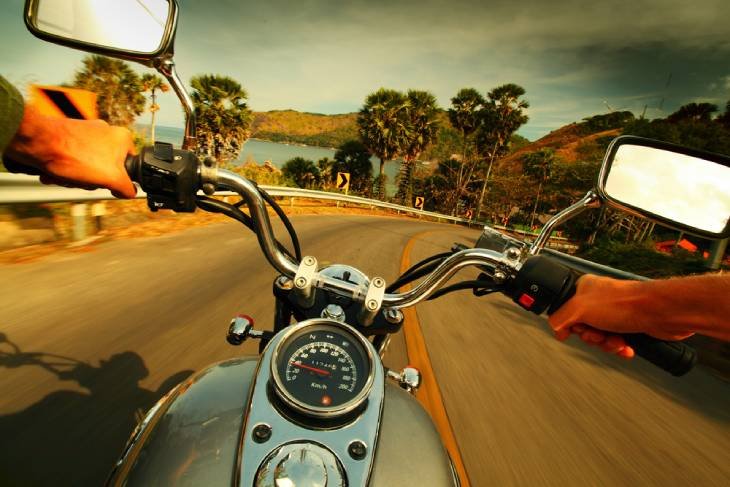 Handlebar-end mirrors for motorcycles are side-view mirrors used as an alternative for stock mirrors provided by manufacturers. Bar-end mirrors have the same mounting procedure that of stock mirrors: only that they are at the end of the handlebars.
They are into the tubular handlebars of motorcycles. These mirrors are glasses housed mostly in durable materials, such as acrylic, aluminum, and other materials.
Most modern bar-end mirrors, like the ViZe Side Bar Mirrors, offer broader vision and rotate on its axis at 360-degrees. They can also adjust up and down, which most stock mirrors can't do.
When you buy a bar-end mirror, they mostly come in pairs, except the CRG Bar-end Mirror, which you can buy individually.
Moreover, bar-end mirrors are more fashionable and have more functionality compared to stock mirrors.
Are Bar-End Mirrors Any Good?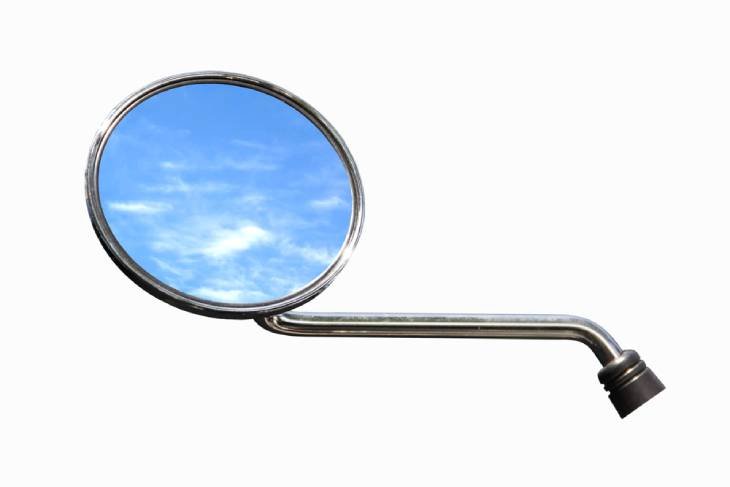 More bike enthusiasts we interviewed attest to the efficacy of bar-end mirrors. Not only are they fashionable, but they are also customizable. Bar-end mirrors also give you more visibility from the rear.
Bar-end mirrors are legal in most states in the United States. But some countries and other regions have regulations regarding the use of bar-end mirrors. You can always check your area's laws regarding the use of these mirrors.
Are Bar-End Mirrors Safe?
Just like what we told you before, bar-end mirrors are safe and convenient to use. Using this type of mirror, you will be able to broadly see the things and happenings behind you, whatever the weather is (except perhaps under a heavy fog).
How Do You Fix A Bar-End Mirror?
Most bikers find their stock mirrors either too big or unsightly, so they want the beauty of installing bar-end mirrors. Fixing these kinds of mirrors is easy. Just mount them at the edge of the bike's handlebars using the provided mounting options.
How Do You Fit Bar-End Mirrors On A Motorcycle?
Since bar-end mirrors are on the edge of a motorcycle's handlebars, you get a peek view of your rear.
Every bar-end mirror in the market have fittings options, but most are clamped-type while others insert into the hollow handlebars.
Better follow the instructions of your purchased mirrors so you won't be confused. Additionally, some products have accessories included in the purchase.
What Are CNC Bar-End Mirrors?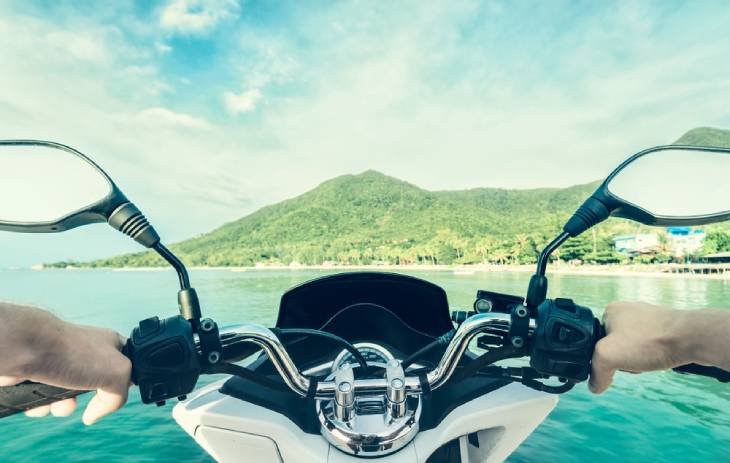 CNC (Computer Numerical Control) bar-end mirrors mean that these mirrors go through automated control of machining tools (such as lathes, drills, and mills), and 3D printers using computers. By this method, there is no hand intervention in an actual process of manufacture.
Why Do Bikers Smash Mirrors?
This question commonly pops up among active bikers. But do not do that, no matter what. It is illegal anywhere else in the world.
However, some irritated bikers smash the mirrors of cars, which cut them illegally during heavy traffic. Some incidents are unintentional, which sometimes result in bumper-to-bumper traffic gridlock.
Conclusion
Bar-end mirrors are ideal for sportbikes, naked bikes, off-road motorcycles, café racers, and other touring bikes. Our list of the best bar-end mirrors for motorcycles is a product of intense research and study that we deem necessary to give you the best insights on popular devices.
But among the top-notch products on our list, there is one that stands out. We highly-recommend the KATUR 7/8-Inch Motorcycle Handlebar End Mirrors because of their immense features and ease of mounting.
One such feature is the mirrors' ability to be adjusted vertically and horizontally; and folding capability. Additionally, its oval shape and anti-glare traits are unique characters that my old mirrors don't have.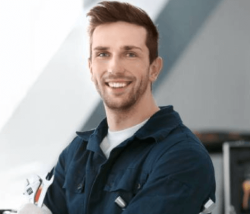 Latest posts by Mark Nicholson
(see all)